Running a meal deal is the easiest way to Fundraise. We provide you with ongoing marketing throughout the ordering period, and the Meals just sell themselves! Perfect for sports days, fun runs or other events, Meal deals can work perfectly on their own or in conjunction with another Fundraiser.

Running a meal deal is the easiest fundraiser to run. You can make passive income throughout the year without impacting any other services at your school. You can even do multiple meal deals each month without customers getting tired of meal deals as well as filling a need in your school. We have unlimited cuisine options and work with you to come up with a plan to run multiple different cuisines throughout the school term
We do all the heavy lifting so you can focus on what you do best!


We deliver all meal deals sorted into class groups so you can easily distribute 1000+ orders in under 15 minutes.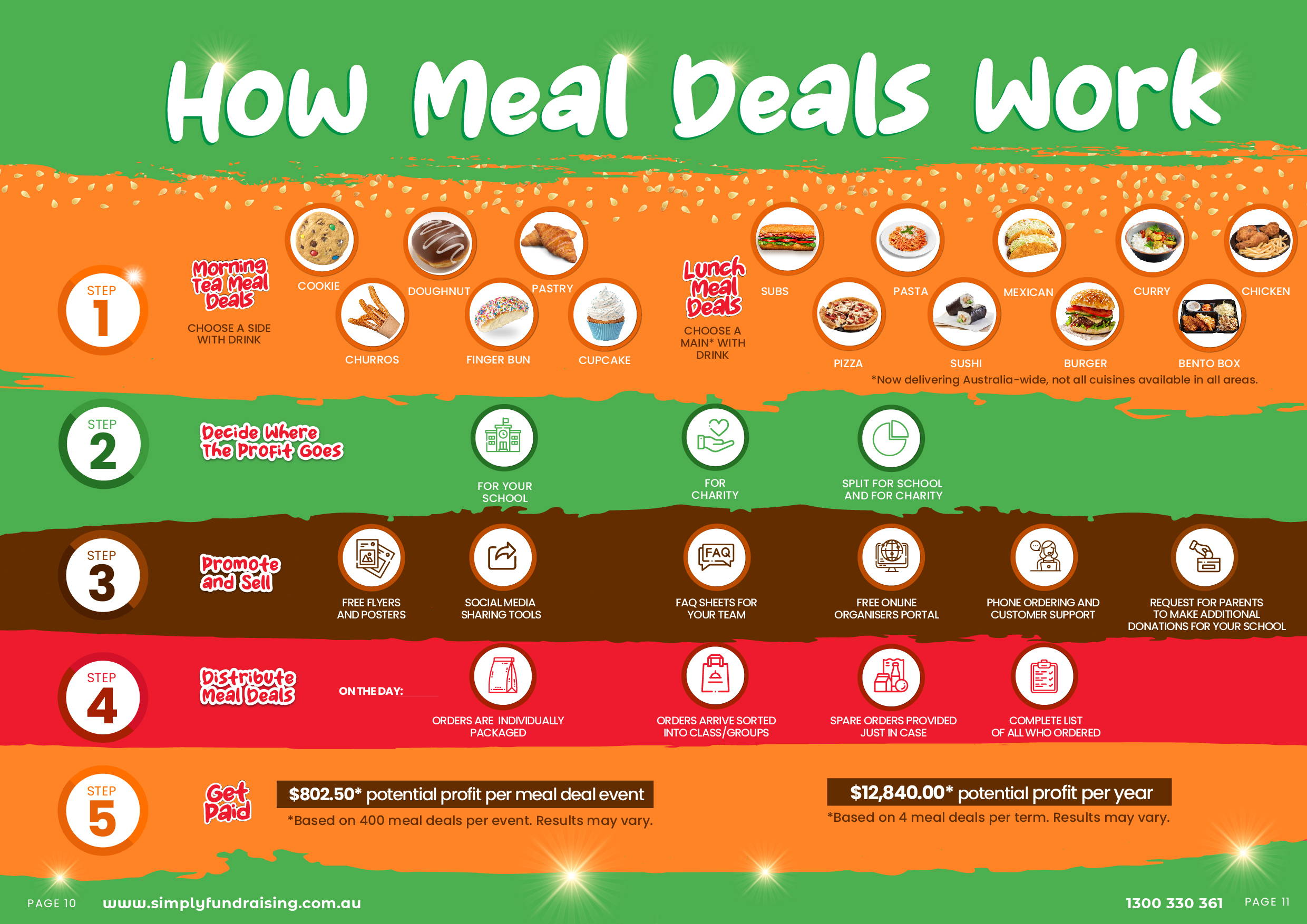 We partner with local restaurants to bring you the best quality whilst also supporting local businesses.



We recommend giving as much notice as possible for your Meal Deals.
You can book in your meal deals terms in advance and change dates and deals at a later date. This allows us to make sure we have your desired meal deal available in your local area.
Important Timings
Getting Your Marketing Materials 1 - 2 Weeks
Advertising Your Meal Deal 4 - 6 Weeks
Ordering Cut Off is 2 business days prior to your delivery date

Having a plan and advertising your fundraiser is the best way to make sure that your fundraiser is a raging success. We help you do all the organisation by giving you all the tools to run a great fundraiser although the effort that you put in advertising and building excitement throughout your organisation greatly affects your outcomes!